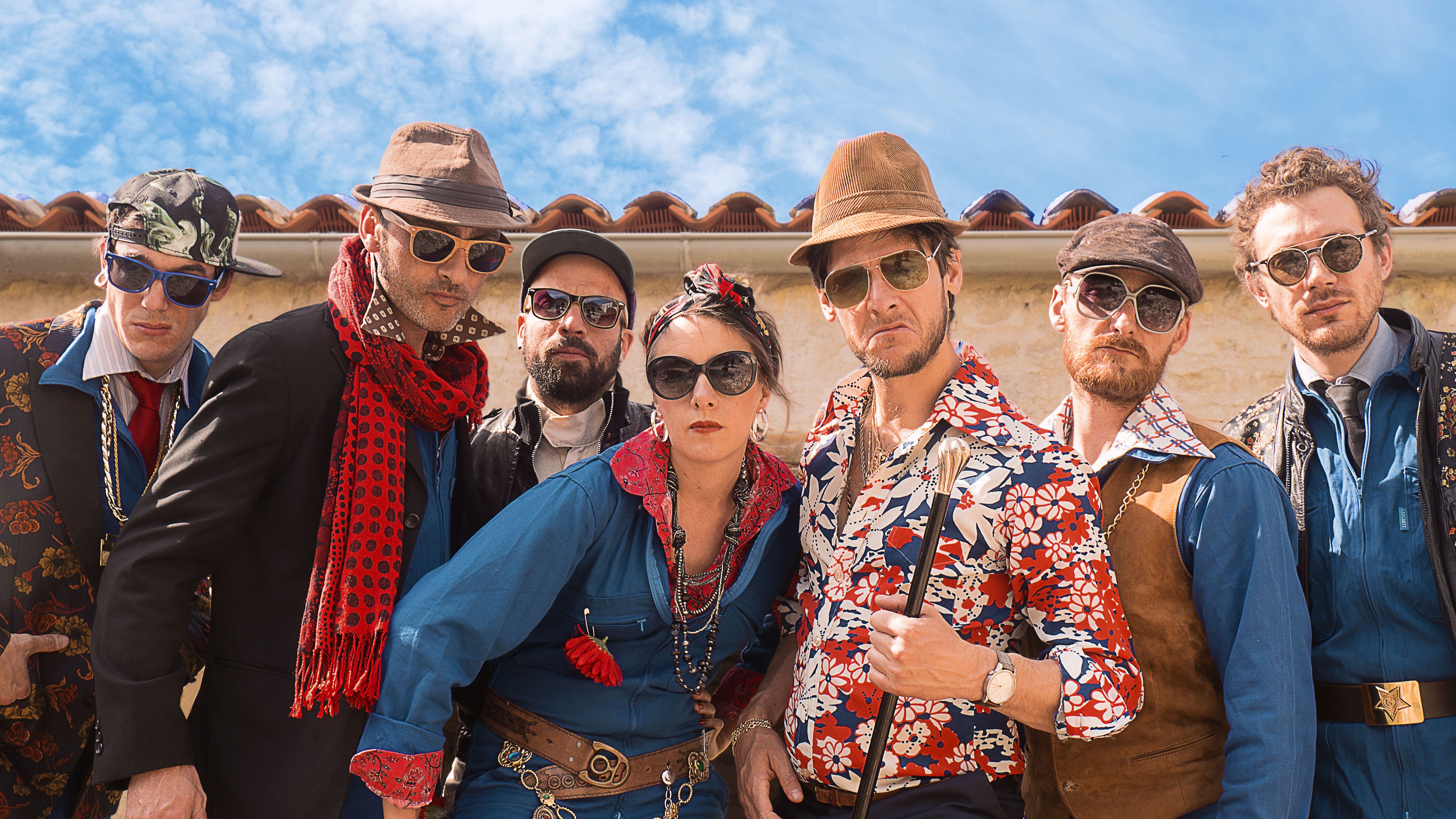 « Ne sommes nous pas tous fils de Bâtards? »
Contestataire, satirique et festif, le Fat Bastard Gang Band est une machine à groove aux origines multiples. Véritable plébiscite à l'échange, au partage, aux libertés.
Depuis sa création en 2009, le Fat s'inscrit dans une démarche artistique forte : le métissage ! Le nom de cette formation est déjà en soit une affirmation de ce mélange des cultures.
Ils puisent leurs influences autant dans les musiques traditionnelles balkaniques que dans les sons électroniques actuels et chantent dans différentes langues.
Une ballade survoltée qui nous promène, nous guide entre salsa, groove nord américain et musiques du Maghreb, chants traditionnels des Balkans et punk.
Cette équipe de sept musiciens (guitare / chant, basse, batterie / sampler, accordéon / clavier, saxophones alto / soprano, tuba / trombone, trompette), invite à un voyage sans frontière.
Un voyage dans à bord de leur vaisseau construit avec folie, amour et spiritualité… sans concession.
« Aren't we all sons of Bastards? »
Anti-authority, satiric and festive, The Fat Bastard Gang Band is a groovin' machine with multiple origins. Real plebiscite in the exchange, in the sharing, in the liberties.
Since his creation in 2009, the Fat Bastard joins in a strong artistic approach: the melting pot! The name of this band already is an assertion of this mixture of the cultures.
They draw their influences as much from the Balkan traditional musics whips in the current electronic sounds and sing in various languages.
An overexcited ballad which walks us, guides us between salsa, North American groove and musics of the Maghreb, traditional songs of the Balkans and punk music.
This team of seven musicians (guitar / singing, bass, battery / sampler, accordion / keyboards, saxophones alto / soprano, tuba / trombone, trumpet), invites in a journey with no border.
A journey in aboard their vessel built with madness, love and spirituality without concession.